Best Mosquito Control Companies Peoria IL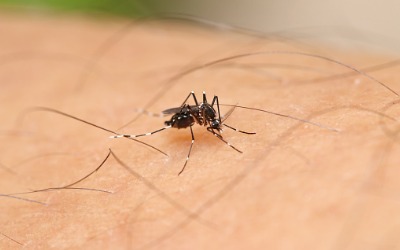 One of the Best Mosquito Control Companies for Peoria IL
Dealing with bugs and rodents is one thing, but trying to control an infestation of mosquitos is an entirely different story. Mosquitos can not only inflect painful welts on your skin, but they're hosts to several dangerous sicknesses and diseases. So, when looking to remove mosquitos from your property, you want to ensure they stay gone. And the only way to do that is by finding the best mosquito control companies in Peoria IL. Thankfully, A&J Pest Control fits that bill.
At A&J Pest Control, we dedicate our time to learning more about the pests and rodents that can inhabit your home or business. By acquiring the most effective chemicals and learning the most efficient treatment methods, we've made a name for ourselves serving locals across Central Illinois. From general pest control and inspection to specific control techniques for various types of pests, we've got you covered.
Why Hire a Mosquito Control Company?
With so many available chemicals and sprays for consumer purchase, you might wonder why you need to call a mosquito control company at all! Truthfully, there's more that goes into mosquito control than spraying your yard with a store-bought spray. To guarantee mosquitos don't come back, you need the help of professionals.
The Right Equipment

While there are plenty of bug repellents and anti-mosquito sprays available at your local supermarket, none of them hold a candle to the consumer-grade chemicals we can acquire. Furthermore, our chemicals and sprays are EPA approved, meaning they are non-toxic to children and pets when implemented correctly. Additionally, we have access to equipment that makes the spraying process fast and straightforward.

The Most Experience

One risk you run when opting for a DIY answer to your mosquito problem is making the infestation worse! If instructions on your store-bought chemicals are not precisely followed, you could end up helping your mosquitos build an immunity to certain sprays. And if this happens, good luck trying to get rid of your mosquitos for that season! However, with the experience of pest removal experts on your side, we can correctly implement any treatment method, driving your mosquitos away.

Save You Time (and Money)

You might not think mosquito control requires much work, but you could be mistaken depending on the severity of the infestation and the size of your yard. If your property is large enough, you'll be spending a hefty amount of cash acquiring enough spray for treatment. Not to mention, you might have to monitor your work and reapply spray after a few days. However, by calling A&J, we take care of everything you need and come back out to ensure treatment is working. Otherwise, we'll re-spray your yard for free.
We Take Care of the Rest
While many consider us to be one of the best mosquito control companies for Peoria IL, mosquitos aren't the only thing we "take care of." From wasp nest removal to performing inspections for termites, we provide the pest control services you need! Our knowledge of treatment for bugs and rodents includes:
Ants
Cockroaches
Earwigs
Wasps & Hornets
Termites
Bedbugs
Fleas
Mice & Rats
And More
Give Us a Call
Don't wait too long to rid your property of blood-sucking pests! Call A&J Pest Control when looking for one of the best mosquito control companies in Peoria IL. You can contact us today at 309-360-5851. Also, we are located at 2532 N Rockwood Rd, Peoria, IL 61604.