Mosquito Control Peoria IL
Live Outdoors Comfortably with Mosquito Control in Peoria IL
If there's one thing that can put a dampen on a backyard barbeque, fire pit or lounging on porch furniture, it's mosquitos. Throughout the summer, mosquitos can become a problem for anyone wishing to spend a prolonged amount of time outside. And with the potential diseases mosquitos can carry, you risk your health every time you walk out your door! However, with mosquito control in Peoria IL, you no longer need to worry about being attacked by blood-sucking insects. A&J Pest Control can ensure your yard is free of mosquitos all season long.
For over two decades, A&J Pest Control has been serving Central Illinois residents with expert pest services. From termite inspections to the removal of rats, we've become the go-to mosquito company when looking to rid your property of "unwanted guests." And with mosquito control, we take an approach meant to drive mosquitos away and ensure they stay gone.
What We Do to Eliminate Mosquitos
Early enough in a season, we can help you take precautions to stop the initial spread of mosquitos across your yard. However, if a mosquito infestation gets bad enough, we have the equipment and chemicals needed to drive these blood-thirsty pests away.
Remove Standing Water

Any standing water on your property can become a breeding ground for mosquitos. For example, birdfeeders, plastic containers, clogged gutters, and more can become paradises for mosquitos to grow and prosper. The most obvious step to help reduce the mosquito population is to be sure there's no standing water on your property.

Treat Other Water Sources

You can do your best to remove standing water from your yard. However, there are some instances where you cannot simply "get rid of" standing water. For example, it's difficult to remove the water that might accumulate on a pool cover. Or, if you have a rain barrel, there's no easy way to dump or drain it. The best way to handle such scenarios for standing water is to add an EPA-registered larvicide to the water. Larvicide works to kill mosquitos before they become adults.

Spray Your Yard

If you're contending with adult mosquitos, spraying your yard is the next step to eliminating these pests. And at A&J Pest Control, we provide the treatment your property needs to kill mosquitos. Our treatment lasts for six weeks and is pet and child friendly. Furthermore, if you find the treatment doesn't take the first time, we'll come back and re-treat your yard for free.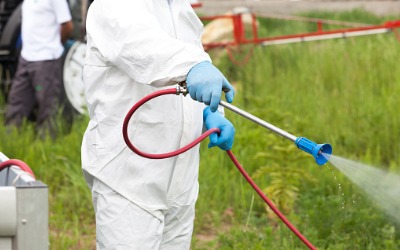 Don't Bug Out!
While mosquito control in Peoria IL is essential when keeping mosquitos away, other harmful insects can infest your yard and home. And thankfully, for Central Illinois residents, A&J Pest Control can take care of any pest problem! Some other bugs and critters we help eliminate include:
Ants
Cockroaches
Earwigs
Wasps & Hornets
Termites
Bedbugs
Fleas
Mice & Rats
And More
Give Us a Call
Before your mosquito problem gets out of hand, let the professionals handle your mosquito control in Peoria IL. Call the experts at A&J Pest Control today! You can contact us at 309-360-5851. Also, we are located at 2532 N Rockwood Rd, Peoria, IL 61604.