Mosquito Pest Control Peoria IL
Enjoy Summer with Mosquito Pest Control in Peoria IL
Summer is an exciting time of year for anyone. However, nothing is more problematic during this season than the re-emergence of mosquitos. These pesky bugs not only hurt when they bite but can carry a host of diseases. Needless to say, you don't want to be dealing with an infestation of mosquitos on your property. However, there are solutions to your ordeal. By hiring mosquito pest control in Peoria IL, getting rid of mosquitos is as easy as picking up the phone! And A&J Pest Control is the company you should be calling.
At A&J Pest Control, we offer excellent service, backed by eco-friendly treatment solutions and commercial-grade spray equipment. Furthermore, our knowledge of mosquitos and other pests has led us to be one of the go-to mosquito control companies of Central Illinois. Schedule an inspection with us today, and we'll help you determine the best method to getting rid of those blood-sucking pests invading your yard.
Don't Settle for DIY
You ought to do yourself a favor and not mess with traditional DIY treatments for mosquito control. While such treatments may seem easy enough and can cost much less, they can have unintended consequences for you, your family and your yard. Instead, let the professionals at A&J handle mosquito control for your home or business.
Knowledge to Back Us Up

"Knowledge is power!" And in the case of mosquito control, knowledge of these pesky critters is essential to remove them from your property. As experts who've been a part of the pest control industry for over two decades, we know what chemicals are the safest, the best treatment methods, and the sources where mosquitos breed and grow. Our combined knowledge allows us to approach your infestation in the most efficient way.

The "Good Stuff"

As a company that controls pests for a living, we have access to the best tools of the trade. Our commercial-grade chemicals and equipment work better than anything you could pick up off your local hardware store's shelf. Furthermore, what we use is all EPA approved, meaning our chemicals and sprays aren't harmful to plants, animals and humans, so long as they're correctly utilized.

Avoid Making Mistakes

Let's say you do decide to take mosquito control into your own hands. However, after several near-successful attempts at spraying your yard, you're finding mosquitos to be coming back, and worse than before! This can be an unfortunate consequence if treatment is improperly applied to your property; your mosquitos can grow a tolerance to adulticides. However, as a professional mosquito company, we ensure mistakes like this are never made.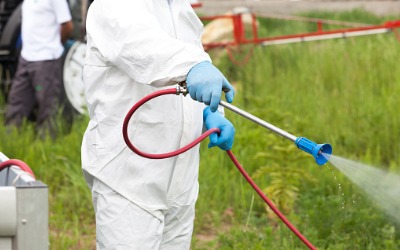 The Pest Control You Require
Aside from mosquito pest control in Peoria IL, A&J Pest Control delivers various treatment options to handle all kinds of insects and rodents. Mice get into your home? We've got you covered! Ants slipping through your windowsill? We have the solution! These are some of the pests we can help remove from your property:
Ants
Cockroaches
Earwigs
Wasps & Hornets
Termites
Bedbugs
Fleas
Mice & Rats
And More
Give Us a Call
When it comes to offering the right mosquito pest control in Peoria IL for your property, A&J Pest Control is the company to call! You can contact us today at 309-360-5851. Also, we are located at 2532 N Rockwood Rd, Peoria, IL 61604.